Monday, May 8th, 2017
Back when I was guiding on the Tenth Mountain Hut System, I vividly recall the time when people began to use GPS systems in the backcountry. It was obvious when you were following a ski trail put in by someone using a GPS. It was obvious because they were always in the wrong place. Instead of following well marked routes that followed efficient safe paths, which had been established for years, they would straight-line through gorges, over hills and sometimes into and through hazardous avalanche terrain. They were following the bearing and distance directions dictated by their GPS.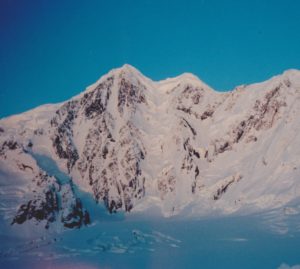 I'm not saying that GPS are not helpful.
In May of 2003, while Base-camped on Bering Ice field, waiting to attempt the west face of Mt. Miller in the Wrangell St. Elias National Park. On a beautiful, calm, sunny day, we marked a waypoint at camp and headed onto ice field to get a better vantage of the final segment of the route we planned to attempt.  As we strode out onto the immense ice field, seven miles across at that point, we marked a few more waypoints as we rounded the western ridge of Mt. Miller. We got the vantage we needed and decided on one of two routes leading us into the bottom of the summit couloir, a 2,500 vertical ft. arrow which spilled over a 2,500 vertical ft. abyss. We would have to traverse from the top another couloir, through broken rock and third class ice. For the rest of that story, see The American Alpine Journal 2003. Turning back towards camp, in the direction of the ocean, we noticed the fog rolling up the ice field. Soon we were awash in the white room. Without those waypoints, and even with the glacier wands we had placed, we would have been lost and spent night in an uncomfortable bivy in the middle of that vast white no mans land.
In the mountains, in rough terrain, you cannot simply follow a vector and distance, straight-lining into oblivion. Only map reading skills can tell you what type of terrain you will encounter along that straight line. If you've spent time in the mountains, you know, a straight line is never possible or efficient and often dangerous, possibly leading you blindly into avalanche or other danger. This may seem obvious to those who do have map skills and use GPS in an effective way.
So, take the time to learn the disappearing skill of map reading. It takes time and practice, and mistakes, to become a good map reader. It's worth your time and effort. When you can really read topo maps well, you can study a map of anywhere in the world and be there in your minds eye. You can see the massive peaks, broad glaciers and deadly deep gorges where you will never go, because you've been there in your minds eye and you couldn't find a safe way out.